The Hindenburg effect —
Nikola stock plunges 26% after fraud claims complicate hydrogen plans
Potential hydrogen fueling station partners reportedly have second thoughts.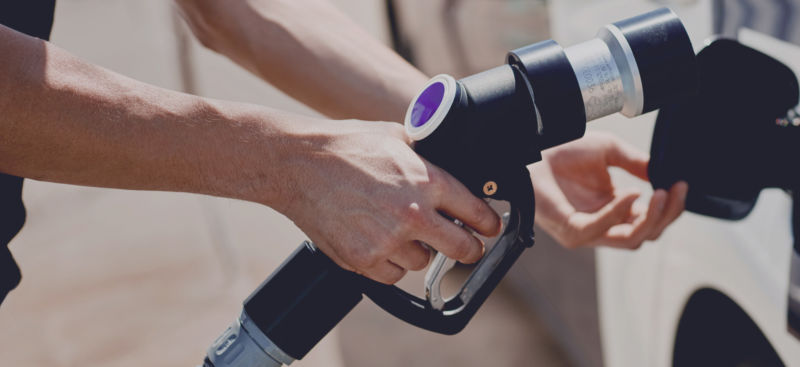 Shares of hydrogen truck startup Nikola plunged 26 percent on Wednesday after The Wall Street Journal reported that the company was struggling to find partners to build a planned network of hydrogen fueling stations. Nikola's stock closed at $21.15 on Wednesday, a decline of 57 percent from the $50 peak reached on September 8, the day Nikola announced that GM would design and manufacture its Badger pickup truck.
Shortly after the GM deal was announced, the short-selling firm Hindenburg Research revealed that Nikola founder Trevor Milton wasn't telling the truth at a 2016 event when he claimed that the Nikola One truck on the stage "fully functions." Nikola now concedes that the truck never worked and that a promotional video of the truck was made by rolling it down a hill.
Nikola argued that this was old news because Nikola is no longer marketing the Nikola One and has a working prototype of the Nikola Two. But the revelations threw the company into chaos and forced Milton to resign on Sunday.
Why Nikola needs hydrogen fueling stations
According to The Wall Street Journal, the Hindenburg revelations have complicated Nikola's search for help with building a planned network of hydrogen fueling stations. The company already has a deal in place to use Nel electrolyzers to generate hydrogen and had been in talks with several companies—including BP and other energy producers, "industrial gas firms," and "truck stop operators"—to handle the logistical details and help build and run the stations. According to the Journal, "Nikola executives felt they were making progress" toward signing a deal, but "the conclusion of this deal was put on hold" after the Hindenburg report. The Journal acknowledges that "a deal could still come together."
These fueling stations are an essential part of Nikola's business strategy. Instead of selling semi trucks outright, Nikola's plan is to lease them at a fixed per-mile rate that covers fuel and maintenance. That reduces the risk customers must take on an unproven technology. But the plan won't work if Nikola doesn't have some fuel stations operational by the time its hydrogen-powered semis begin rolling off the assembly line—something that's currently slated to happen in 2023.
Nikola has long looked to partner with companies that already have the technology Nikola needs. Nikola took this approach to an extreme in the GM deal; GM is supposed to both design and manufacture Nikola's Badger trucks, which will be based on GM's battery and hydrogen cell technologies. Nikola has made similar deals with other companies—including Iveco and Bosch—to help design or build its semi trucks.
In short, a big part of Nikola's strategy until now has been to solve problems by throwing money at them. Until recently, the hype surrounding Nikola made it easy to raise cash.
But the company may now be entering an era of increased investor skepticism. That could force Nikola to tighten its belt and do more with less. If that happens, we'll find out if Nikola can accomplish its ambitious goals without depending so heavily on well-compensated partners.
Promoted Comments
Wickwick wrote:">show nested quotes

You just explained why hydrogen will never have a serious role as energy storage – No list of its "advantages" actually mentions sustainable carbon emissions reduction. So your real comparison should be why someone should buy something that's more expensive, less developed and more impractical than a diesel truck.

As for the future, it doesn't matter if hydrogen farts unicorns and and makes you prettier while driving – the simple fact is that using energy to power a battery electric vehicle of any kind saves seriously on emissions as opposed to using that energy for most other things while hydrogen doesn't, and never will. In fact, it is more efficient to curtail 50% of renewable energy and put the rest of it into the grid than it is to store it as hydrogen for any purpose.

We had this discussion in another thread so I'll recap it here. 20 years ago, there was doubt as to whether batteries or hydrogen were going to displace gasoline. The main driver wasn't eliminating CO2. The main driver was reducing smog levels in urban areas. The expectation was that a clean grid would lead to less overall emissions for both hydrogen and battery power.

Both batteries and hydrogen need infrastructure to be viable – chargers or filling stations. It just so happens that battery-powered vehicles seem to have matured faster than their hydrogen counterparts. But if President Bush's push to make the US a "hydrogen economy" had gone through, the reverse could have just as easily been the case. And in that situation, BEVs would have had difficulty unseating hydrogen because the latter would never have suffered from "range anxiety."

Range is still a concern with trucking which is why there is a market for Nikola's trucks if they could have magically hit their numbers. Trucks are limited in their max. dross weight. Batteries for trucks are heavy. That's cargo you're eating into. Hydrogen could still be a viable alternative if there is enough infrastructure. It's just not Nikola that's going to see it happen.

How is it that it was so obvious to so many that Nikola was a scam, but the great corporate heads who made the deals couldn't figure it out? Didn't GM or the other partners actually bother to look at any of the stuff they were about to invest in? Or do the 6th grade science math of end to end efficiency of the hydrogen scheme?

GM deal has zero risk for GM. It look like in hindsight that the deal was a hail mary by Nikola to pivot and get some product and revenue on the table. They were paying GM $2.7B for GM to build a plant owned and operated by GM that would then produce vehicle for profit to sell to Nikola. If Nikola had done this pivot a year earlier it might have been successful I think they just stuck with the con until it was too late.

If the deal falls apart before GM gets paid anything then GM walks away with nothing but loses nothing. If GM gets paid some of what they are owed and then the deal falls apart GM comes out ahead. If GM gets paid everything they are owed and then the deal falls apart GM comes out more ahead. If somehow Nikola turns the corner and survives long enough to start selling GM trucks with a Nikola sticker on them then GM is even more ahead.

If I were running GM I would take any deal where an outsider pays me $2.7B to build a plant I get to own and then acts as a sole supplier to supply them trucks on a cost plus basis after they built the plant on their dime.